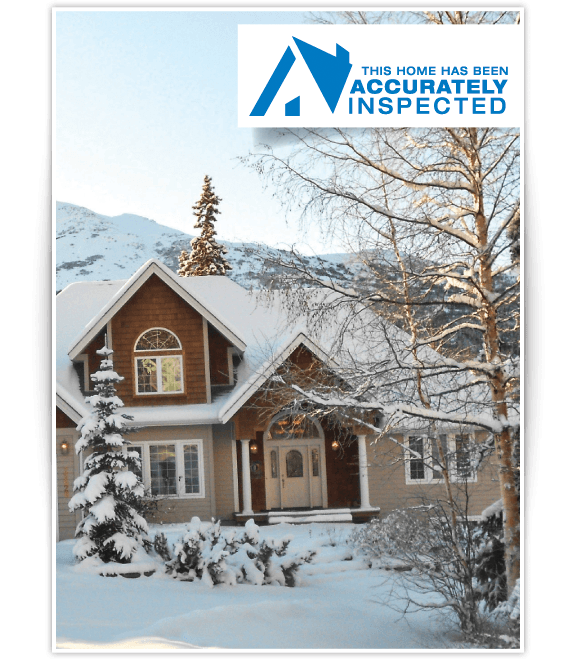 Accurate Inspection Service offers a thorough examination of the home that is unparalleled in Anchorage, the Mat-Su Valley or the Kenai Peninsula. With care and precision, our home inspector will provide a quality assessment and then deliver the written report within 24 hours.
What is a Home or Residential Inspection?
A home or residential inspection is an objective visual examination of the physical structure and systems of a house, from the roof to the foundation. A home inspection is an invaluable tool for both making a home purchase and for those already owning a home. With an inspection, buyers can make a better informed decision regarding an investment, and homeowners can help keep long-term home maintenance costs low and protect their investment.
No house is perfect. If the home inspector identifies problems, it does not mean you should or should not buy the house, only that you will know in advance what to expect.
A home inspector will identify problems in the making and suggest preventative measures that might help you avoid costly future repairs or address energy and safety concerns.
A home inspection does not include environmental testing, requiring the use of specialty tools and equipment. Environmental testing which includes, but is not limited to: mold, radon, lead, asbestos and carbon monoxide. We can test for these contaminates at an additional cost.
How Can a Home Inspector Benefit The Buyer
Buying a home could be the largest single investment you will ever make. To minimize unpleasant surprises and unexpected difficulties, you will want to learn as much as you can about the residence before buying it. A home inspection may identify the need for major repairs or builder oversights, as well as the need for maintenance to keep it in good shape. After the inspection, you will know more about the house, which will allow you to make decisions with confidence.
How Can a Home Inspector Benefit The Seller?
If you are planning to sell your home, a home inspection can give you the opportunity to make repairs that will put the house in better selling condition.
Why Can't I Do a Home Inspection Myself?
Accurate Inspection Service is familiar with the elements of home construction, proper installation, maintenance, and home safety. Accurate Inspection Service knows how the home's systems and components are intended to function together, as well as why they fail. In addition, as a licensed General Contractor and certified Building Analyst, Accurate Inspection Service is capable of accurately interpreting and determining compliance with the numerous building codes in your area of Alaska, whether it is Anchorage, the Matanuska-Susitna Valley, or the Kenai Peninsula.
Many buyers find it difficult to remain completely objective and unemotional about the house they really want, and home owner's may be biased in their results based on emotional ties the home has provided the family over the years; these things may have an adverse effect upon their judgment. For accurate information, it is best to obtain an impartial, third-party opinion by a certified, licensed professional in the field of home inspection.
When Should I Call a Home Inspector?
Contact Accurate Inspection Service at 907-243-0352 immediately after the contract or purchase agreement has been signed. Before you sign, be sure there is an inspection clause in the sales contract, making your final purchase obligation contingent on the findings of our certified and licensed home inspector. This clause should specify the terms and conditions to which both the buyer and seller are obligated.
Unless special arrangements are made, Accurate Inspection Service requires you to be present for the inspection. You will be able to observe our inspector and ask questions as you learn about the condition of the home and how to maintain it.
Making the Grade – Passing the Home Inspection
A professional home inspection is an examination of the current condition of a house. Because it is not an appraisal, which determines market value, nor is it a municipal inspection, which verifies local code compliance, a home cannot pass or fail an inspection. Accurate Inspection Service will describe the home's physical condition and indicate what components and systems may need major repair or replacement.
No house is perfect. If our inspector identifies problems, it does not mean you should or should not buy the house, only that you will know in advance what to expect… and that is priceless!